Vol.01
SPECIAL CONTENTS
"Kirie" is the beautiful art of Japanese paper cutting.
This delicate artistic expression can't be duplicated by any type of drawing or painting.
"Kirie" paper cutting artist Mr.Uroko Aoki
Beautiful monochrome art is expressed with crisp clear,
fine cutting-lines
Many of Aoki's Kirie Art is of beautifully detailed butterflies, exotic fishes and amazing sceneries.
His kirie arts are too delicate to find out that they are created by Kirie.
His intricate art displays his freedom of expressions, which are largely inspired by nature and daily life.
Mr.Uroko Aoki has been using our exquisite NT knife "DS-800P" for his arts, and we had
the privilege to speak with him about its usability.
Ⅰ

×

PERSON
What was it that started you on your interest in the art of paper cutting?
I used to create my art with watercolor and oil paint,
but I found my interest was more towards
monochromatic, high contrast art which got me started with pen-and-ink drawing.
However, I was not satisfied with the lines drawn with pen-and-ink
because it has a tendency to bleed,which makes the black and white contrast look dull and less vibrant.
Then the idea of Kirie Art came to mind!
Kirie Art definitely solved the bleeding problem and gave me crisp clear lines to express my
energy and my love for nature through my art.
My pursuit for the ultimate art of monochrome was finally achieved with the technique of "Kirie"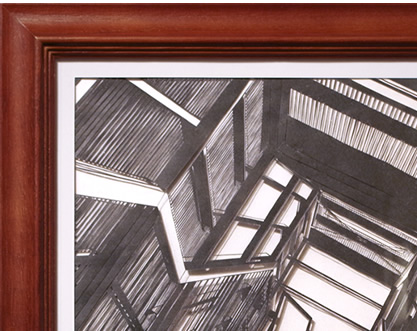 A good grip maximizes the
performance of the blade.
Ⅱ

×

COMFORT
How do you like our precision knife "DS-800P"?
It's easy to control, even for sharp turns.
I have been using the DS-800P knife since I first started "Kirie" art.
An ordinary cutter will interferes with the view of where I'm cutting; however
with the slim grip of NT's Art Design Knife, DS-800P, I have a clear view for a precise cut.
Since I can hold it comfortably like a pen and with my grip close to the blade,
I have more control of the knife.
This precision art knife can smoothly cut delicate thin paper and
even textured Japanese Washi paper.
I always recommend the DS-800P knife to my students when I have classes.
How would you describe the NT blades?
There's nothing better than a fresh new NT blade to begin my work.
These amazing blades will outlast most other blades and stay sharp longer.
Although these NT blades stay sharp for a long time, as soon as I feel that
the cut is not as smooth, I put in a new blade for optimal lines.
Also for safety reasons, it is always best to work with a sharp blade rather than
a dull blade that could impede the control of where you are cutting.
Ⅲ

×

TRY OUT
We asked Mr. Aoki to try our tungsten carbide blade BSB-13P.
I can definitely feel the difference from the moment I start cutting.
I could feel the blade "runs" smoother along the lines than the regular blades.
I draw my draft on the back side of the paper and cut along those lines, which
leaves a little protrusion on the front side of the paper.
But using the BSB-13P blades, there is no protrusion along the lines,
just a beautifully smooth cut surface.
It motivates me to work with the best quality blades to create my very best work.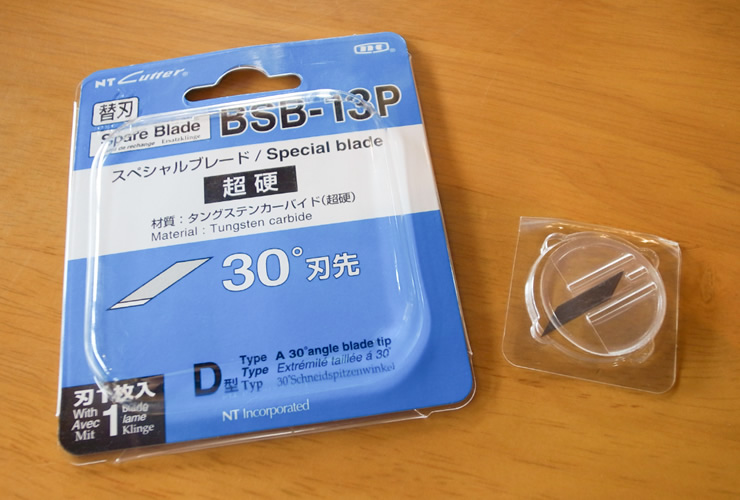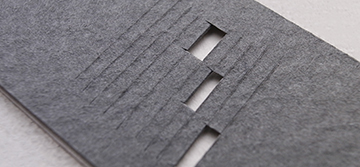 ↑ When cutting lines with regular
blades, the edges are not smooth,
it leaves a little budge along the lines.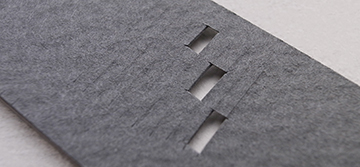 ↑ BSB-13P leaves a smooth flat cut line.
碧輝うろこ Uroko Aoki
He was born in 1991, Osaka Japan.
His artwork can be seen at private and public exhibitions and at special events held in department stores.
He also has classes to increase even more popularity of Kirie Art in Japan.
Recently, he opened his own kirie-Art Gallery "Atelier Cypris."
DS-800P

【material】Body・Collar:Aluminum、Chuck:Brass+Nickel-plated【size】127×6×6mm【weight】11g
BSB-13P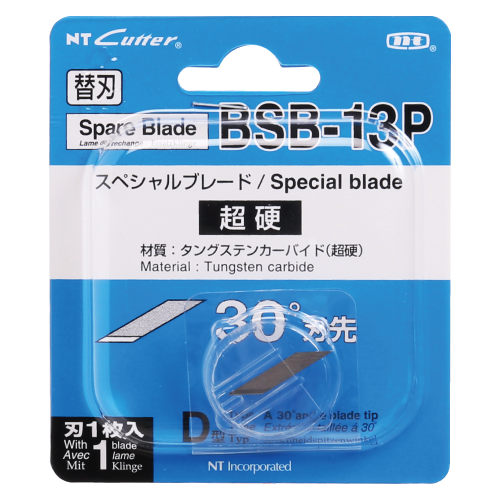 【material】Tungsten Carbide 【size】4×24×0.4mm 【weight】0.4g